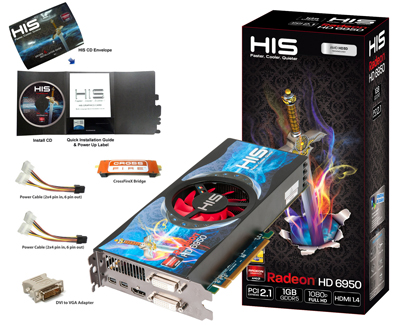 The card is said to retain all of the same technical specs, including 1408 stream processor and stock speeds of 800MHz / 5000MHz. The only change will be halving the memory to 1GB of GDDR5, which will have an effect on frame rates, though only more noticeable at high resolutions. Manufacturers such as HIS, have already begun listing the card under their current products.

As a result of the reduced memory, AMD will be offering the HD 6950 1GB at a rather inconsequential $20-$30 less, but the company hopes it will better target the incoming NVIDIA GTX 560 Ti, expected to arrive late January

As with every good mid-range card, one can expect to see factory overclocked variants debuting shortly afterwards, with PowerColor, Sappphire & XFX supposedly queued up for the card's official launch sometime in February.
via HardwareCanucks