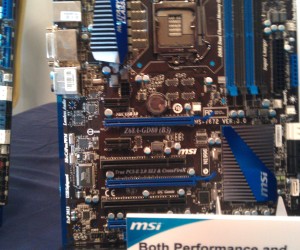 It's the MSI MOA overclocking event in Istanbul this weekend and the company has been using the event to give us an early look at a board based on Intel's new Z68 chipset.
The new chipset, which is widely rumoured

to be dropping on 8 May is set to offer a best-of-both-worlds option for those looking to buy an LGA1155 system.
This is because the chipset is known to offer both CPU overclocking and the ability to overclock the on-board GPU, two features that are currently not available in a single LGA1155 chipset. Z68 also looks set to bring support for the performance enhancing RST SSD Caching technology that caches frequently used data from a hard disk to an SSD to increase application boot times and responsiveness.
Continue reading the rest of the article by following the source link below.
via Bit-Tech